FELT-SEWING-NATURAL TINCTURE COURSES
Dying Wool and Silk with natural colourants

all year by appointment
Felt: open workshop

every wednsday until 21 /12/2012
9.00-12.00
15.00-18.00 and 18.00-21.00
Sewing: open workshop

every thursday until 21/12/ 2012
9.00-12.00
15.00-18.00 and 18.00-21.00

I have been teaching at Manu laboratory since 2001. Free access and you can find us in via S. Quirino 20/c, Bolzano.

For detailed information on courses visit the association's site: http://www.manu.bz.it
Also available for individual lessons, small groups and out of town courses.

Textile labs: Manu Association, Bolzano

MANU is a building with professional laboratories where everyone has the chance of learning a manual skill, bring a project to life, create something nice for themselves or other people by using different laboratories in the same building.
The novelty in MANU is that you can create your projects in fully equipped laboratories and with the help of qualified personnel: no need to book in advance and with no time restrictions. In the wood workshop and in those laboratories where one can work with metal, ceramics, encaustica, sewing, felt, natural tinctures, cooking, tiffany and jewels, blown pearls, different laboratories for children from 6 years up: these are the places where you can create and project original ideas.
As well as laboratories with free access, Manu offers activities in different labs with booking in advance..
Groups composed of 4/7 people may book an activity whenever they choose.
MANU is an association open to everyone. By taking part in manual activities one can establish social contacts, spend one's free time in a useful way, creating trinkets and objects and relishing in one's own successful endeavours. Every person can create an object manually.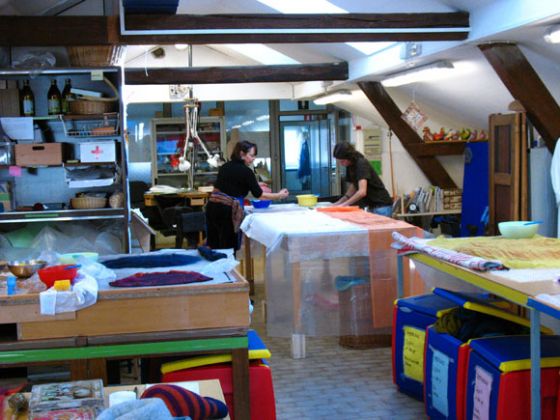 The resulting state of wellbeing and social dimension which derive from these activities have guaranteed in securing the collaboration of the Social Services Department of the Municipality of Bolzano: this convention enables the followed people to use MANU's services free of charge. Prices are low as everyone should be able to gain access to the structure and its laboratories: as MANU can offer its services to members only, everyone wanting to take part in these needs to buy a membership card ( 10€ each, while members of the same family pay only 1€) and to use the laboratories for 3 hours the price is of 9 €. Raw material can be found on site and can also be brought from home.
The textile lab at MANU is never empty, and women of all ages go there.
Two seamstresses and three felt experts are there to help you, even though the felt lab can be used without supervised assistance.
The felt laboratories is one of the most used, as it has 9 work spaces, with two big tables with all the materials and equipment you may need such as bubble wrap, fine paper, plastic mats, various roll kernels for rolling purposes; there's an area where you can let things dry off, a big sink, a spin dryer: we also have molds for slippers in every possible size, hair clips, models to design clothes and wool: merino, mountain sheep, silk in every colour and basic cloths. Furthermore we have a tincture laboratory with pots and tincture herbs.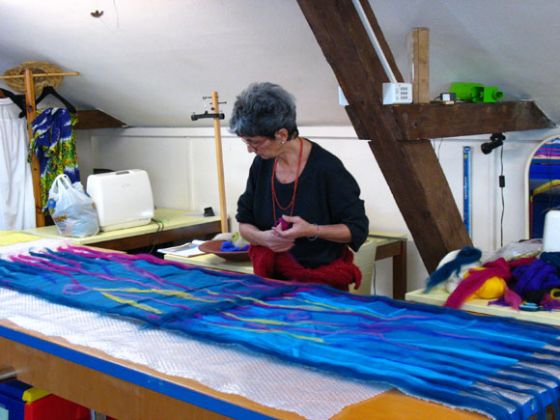 There are those who come only once or twice, and there are those who fall in love with the techniques they see and come on a regular basis. As it is an open laboratory, people mingle and the ideas are as many as the people: an idea is born and whoever has had it goes back home content and with beautiful products. Members also enjoy being able to follow their own idea and not sticking to a fixed theme.
The felt laboratory is open three times a week, and twice a week for children. Opening times follow a fixed schedule from October-December and January-June, and during summer there's the chance to take part in some special activities, requiring an enrolment.
Further information on the website of MANU: www.manu.bz.it phone number 0471-401693, the event programme is always hanging on the door in Via San Quirino 20/C di Bolzano.